By Jason |
20
August 2022 |
0
Comments
This small city in Henan has cured the world's baldness
From here, Chinese-made wigs are sold to every corner of the world.
Wigs made in China
Made in China
From birth to production to sales, a wig is going through a global adventure.
Michelle M. The wigs on The heads of Obama, Lady Gaga and Rihanna may have come from other women, who could be Cambodian peasant women, Vietnamese brides or Hindu female pilgrims.
In the pen of the American writer O Henry, the heroine of "Maggie's Gift" Della once sold her long hair to prepare a Christmas gift for her husband in exchange for a white gold bracelet.
The plot in the novel is not invented by the author, and the real hair in the wig mainly comes from long, unpoiled hair.
They are known as "black gold" and are becoming more expensive because they are scarce.
According to the Securities Times, at the beginning of the 21st century, the price of human hair was 200-300 yuan per kilogram, while in 2021, China's 60 cm braided hair has been sold for 6400 yuan per kilogram.
A wig operator revealed to reporters that the current suppliers are mainly from Vietnam, India, Pakistan, Cambodia and other countries, as well as rural areas in northern China and ethnic minority areas such as Yunnan, Guizhou and Sichuan.
These real hairs from all over the world are gathered by senders and forwarders to factories in China, and after a series of processing and packaging, they are sold all over the world.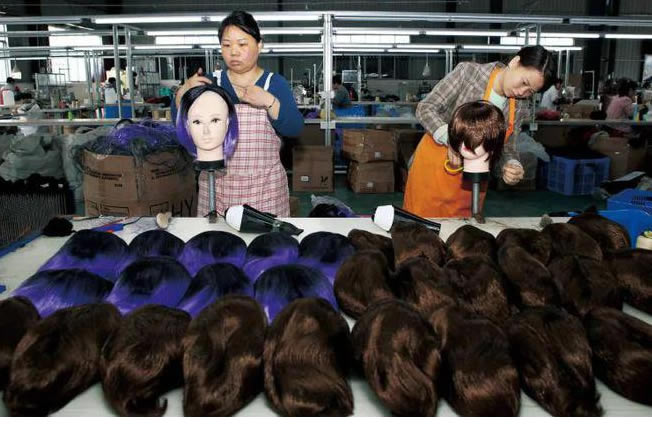 In Xuchang, Henan, everyone can more or less relate to the wig industry, whether you are a manufacturer, dealer or online shop owner, even local peasant women will do some wig crochet handicraft work in scattered time.
Thanks to the development of cross-border e-commerce, Chinese-made wigs have been sold to every corner of the world.
On the cross-border e-commerce platform, every two seconds, a Xuchang hair product is traded.
Out of every 10 wigs in the world, 6 come from Xuchang.
June 14, 2022, Xuchang, Henan. In the international scrap market, staff are live-streaming wig products. Image Source/ Visual China
The Chinese people are conservative, and the main patrons are in the Americas and Africa
When overtime became the norm, the pain of hair loss became younger and younger.
In China, more and more young people are trying to buy wigs.
According to data from Huajing Industry Research Institute, the market size of China's wig industry in 2021 will be 9.2 billion yuan, an increase of 15.3% year-on-year.
Among them, wig consumers under the age of 40 accounted for 46%.
Not only do ordinary people have the problem of "hair volume anxiety", but celebrities are no exception.
When the female star's wig film accidentally fell off during the show, they did not look embarrassed, but admitted that they had hair loss troubles.
This frank performance not only left the impression of being approachable to the public, but also put on a fire wig by the way.
Unlike overseas customers, Chinese people's aesthetic preferences for
wigs
are more conservative, mainly because of the differences in the demand for wigs between the two.
In the process of the reporter's visit to the well-known domestic wig brands Rebecca and V'S, its clerks said that among the customers who bought wigs, there were mainly customers with rigid needs for wigs such as baldness, whitening hair and pathological problems.
Customers with rigid needs for wigs. Image source/figureworm creative
An offline wig shop owner also said that when his store is purchased, 70% of the basic wigs mainly meet the needs of the above types of customers, the remaining 30% are fashion wigs, and the customer base is young people who pursue fashion.
Xu Jing, the owner of the wig shop, has been in the wig sales industry for 10 years and has a storefront on the second floor of Wangfujing Department Store in Taiyuan, Shanxi.
In Xu Jing's shop, the "Sales King" is a fully hand-woven, 100% real hair dark red medium long hair set, priced at 5200 yuan.
Her customers are mainly middle-aged and elderly women, and the best-selling styles are those that are dark red and brown, and will look slightly older to young people.
Xu Jing occasionally encounters generous patrons.
A mine owner's wife who came to Taiyuan from Pingyao to shop once went to Xu Jing's store to try on a wig, and immediately took a fancy to the most expensive wig set in the store - a long black straight wig that costs more than 10,000 yuan.
Within a few days, the lady told Xu Jing that she did not wear this hair cover herself, because her son told her that after she put it on, she was like a female ghost "Zhenzi", "too scary".
Xu Jing found that many women who love beauty will prefer this unusually long black straight wig.
A woman who is a teacher by profession originally wanted to buy a mink coat in the mall, but went to Xu Jing's wig shop.
Her hair is already thick, and she also likes this wig, because she likes the feeling of "long hair fluttering".
According to Xu Jing's observation, contrary to the conservative aesthetic preferences of the Chinese, the choices of European and American white customers will be more diverse and the styles will be more exaggerated.
Brightly colored, exaggerated style wig. Image source/Pexels
For them, wigs are as important as makeup, clothes, shoes and bags, and are an important part of their external image.
Pairing
different wigs
on different occasions is the norm in their lives.
For the African-American community, the presence of wigs is almost a necessity.
Their hair is generally drier, and a little longer is easy to fall off and difficult to manage.
According to IBISWorld Analyst, wig and hair accessories stores have $391 million in net revenue per year in the U.S. alone, and black Americans are one of their most loyal customers.
Africa, like the Americas, is a major exporter of
Chinese wigs
.
Taking Rebecca, a leading leading enterprise in Xuchang hair products, as an example, its annual report shows that more than 80% of the operating income in 2021 will come from abroad, and the Americas and Africa account for 39.32% and 36.99% respectively.
Leave a Reply
Your email address will not be published.Required fields are marked. *